Information on our online and offline learning resources is contained in each of these tabs. Digital copies of your childs work can be saved into Microsoft teams with your childs school email address and password. Even offline work can be photographed or filmed and uploaded. If you don't know your email address or password please contact your teacher.
We would encourage you to set up a timetable that can be followed while the children are working at home. We will provide you with a suggested timetable to help with this.
We will continue to update this page, to add more apps.
Teachers will be in contact with their classes to check in and see how everyone is going. If you or your child need to contact your teacher, you can do this via email. Teachers email addresses are
Students and parents can email their teachers for help, to answer any questions or for any support they may require with their learning between 9.00am-12.00pm and 1.00pm-2.00pm. Teachers will endeavor to stay in regular contact with their students.

The Office Apps website gives pupils and staff access to many of the schools apps, (scroll down to see them all).
You can download the Office 365 Apps (Microsoft Office) to your device for free if you would like to. You are also able to just use the webapps if you do not wish to download Office 365
They provide the ability to use an extended version of the webapps and often make it easier to do the things you wish to do in your documents.
This is free and will remain active for as long as your child is a pupil at Koraunui School provided they log into the school portal at least once a year to confirm their contact details.
Go to The Office 365 portal
Log in using your school email address and password.
(contact your teacher if you do not know what this is)
Click the 'install Office' dropdown and choose 'Office 365 apps'

If you are using edge it should just start to install. If you are using another browser you will need to choose a place to save the installer. Make sure you choose a location you can find again.
Find location you saved the installer and double click on it to start the download and install of the Office 365 apps.
Remain connected to the internet while the setup is in progress and leave the webpage open until it says Office 365 is setup on your device.
Once done you will be able to use the Office 365 apps on your computer.
When asked for your account, just enter your school email address and password.
Please note: Once installed Microsoft Teams will try to load on startup and this can become annoying. If you wish; you can right click on the Teams Icon and choose 'settings' from this menu you can choose to untick 'autostart application' this will prevent Teams from auto starting.
Microsoft have some really good instruction videos on how to use the apps
Some of the most common apps we use are:
Teams
This is where we communicate with each other. Only people with a school email address and password can chat in here or access the files. Different groups are available depending on what class you are in. When you save your work into the class files area the teacher will be able to access it. When the teacher saves work or makes a comment you will be able to access it.
Outlook email and calendar
This is where your emails will be once you log in.
Word
This is a wonderful word processor. Great for creating documents which can then be saved into Teams so that the teacher can access it.
PowerPoint
Create slideshows to present your work and save them into Teams.
Excel
Create spreadsheets, graphs and so much more and save them into Teams. Great for lists and mathematical work.
We have prepared learning from home packs.
All learning from home packs that were not picked up from school were delivered to families so the children have these to work on during the time away from school.
The packs include;
An explanation of the pack and what is require of the children, contact information.
Photocopied sheets, lined paper and a workbook.
Stickers to decorate the workbook with.
Library books selected by your child.
A slip of paper with details and login for StudyLadder (online learning site)
Parents may need to provide their children with a vivid marker pen, colouring pencils and a glue stick.
With the school holiday period beginning on Monday 30 March and running through until Monday 13 April, we see this work as being completed after Easter, when schools are open for distance learning, from Tuesday 14 April. Of course, if your children wish to start on this earlier this is also fine.
We will work on establishing on-line learning and communication for families who can access this while the school is closed. As we finalise what this looks like, we will provide information about what this includes and how to access on-line learning. We are able to provide paper learning packs for those without internet access. Please keep an eye for emails about this in coming days.
About Studyladder

Studyladder is a web based educational program designed by teachers. The program is curriculum based and covers Mathematics, Literacy as well as other subjects. Your child has been given a username and password which can be used to access Studyladder.
Recovering previous points and rewards
If your child had a previous account, use the following steps to recover their past rewards and points: 1. Log in to their NEW school account 2. Click on the MENU option 3. Select RECOVER POINTS and enter the OLD username/password All of their past rewards will be recovered. This will also upgrade their new account if the previous account had premium paid access.
Using Studyladder
It is not compulsory for your child to use Studyladder at home, however regular access will help them reinforce what they have been taught in school. It will also help to build their confidence through practice.
Safe Internet Usage
Your child will NOT be able to chat with anyone using Studyladder. However, we still encourage you to supervise your child at all times when using the internet.
Using Studyladder from home
Simply go to the links below and login using your child's password which will be sent home in your kit. The free version allows students to access 3 activities per day from home (it is optional for parents to upgrade if they wish to give their child unlimited home access). As a parent you can join Studyladder for free if you wish to monitor your child's progress.
If you have any questions please contact your child's teacher or email support@studyladder.co.nz.

Teams is a collaboration app, much like Facebook, but limited to people in an organisation. So ours is limited to our school community. We can use it to chat, share and save files and have meetings.
You can get to Microsoft Teams 2 ways:
Use the web app
Use the desktop app
Use the Web App
Go to https://teams.microsoft.com/
Log in using your school email and password (contact your teacher if you do not know it)
OR
Use the Desktop App
Download the desktop Office 365 Apps as described here under 'download Office 365 Apps
Click on the windows icon

on the bottom of your screen and choose 'all apps'

Under 'M' select 'Microsoft Teams
Log in using your school email and password (contact your teacher if you do not know it)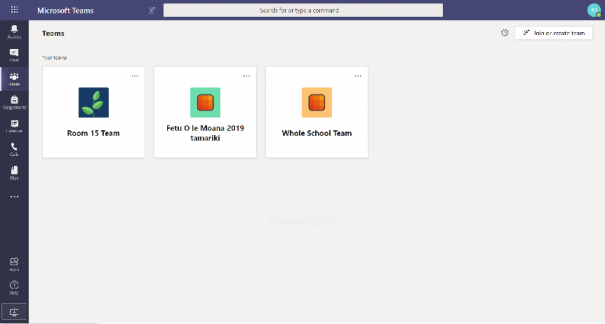 You should see a screen like this.
Click on the name of your class.
Once in your class group you can chat and use files.
Here you will see any messages to and from your class to each other. Everyone in the team can see these messages.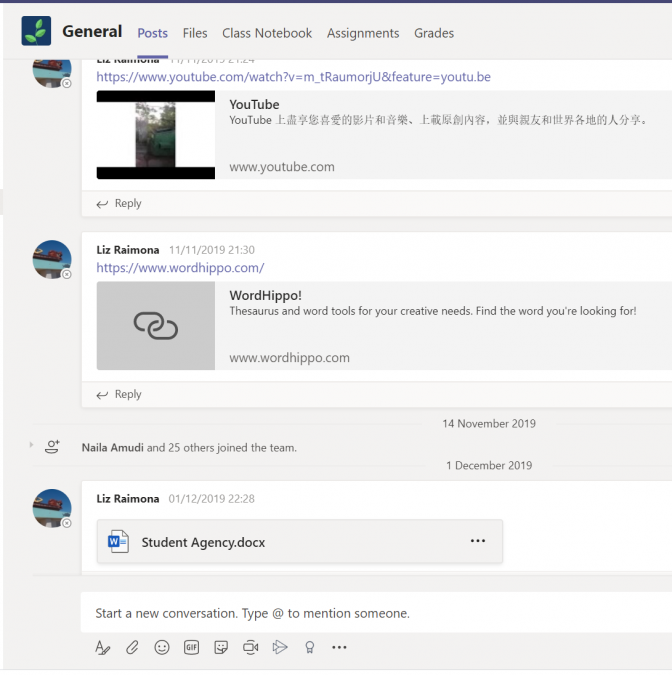 If you are unable to comment it is because you have been 'muted' by your teacher.
Use the @ symbol on your keyboard and start typing someones name to bring someones attention to your post. To bring the whole teams attention use the @team. Then type your message. When replying to someone elses comment, just hit reply and follow the same process.
If you wish to send a private message - use the

at the top of the screen.
This is where you can upload your files and view files other have uploaded.
You get to it by clicking on the 'Files' tab at the top of the screen once you have selected your class.
It is important to select your name (create a new folder if you don't have one) so that all your files are in the same place, unless your teacher has told you to put the files somewhere else.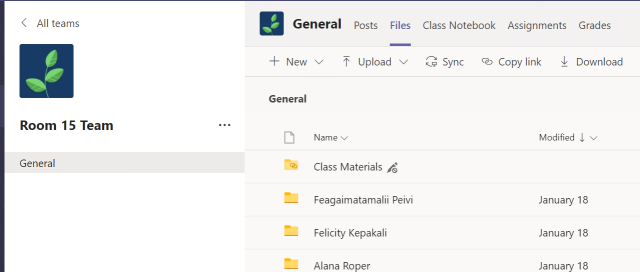 Follow the steps above to get to the files tab.
Click on the file - this will enable you to view the file.
Click on the ellipsis (...) on the top right of the window if you wish to edit the file. Choose Open in Desktop App if you have installed the desktop app. Choose open in Browser if you have not downloaded the Desktop App.
Click the down arrow next to open and choose how you want to work on your file.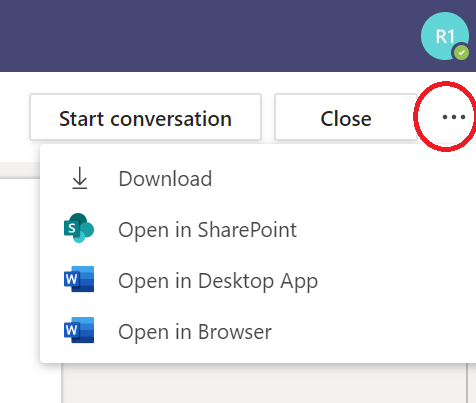 From the class team menu (follow the steps above on how to get there) - choose 'New from the top menu.
Then Choose the type of file you wish to create.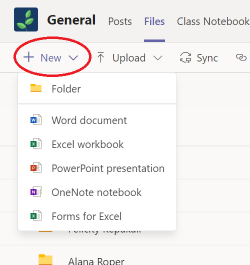 Files will be automatically saved into the folder you were in when you created it.
Once you are in the class site (follow the steps above) click on your name (create a new folder if necessary)
Drag and drop your files into your folder or click the upload option at the top of the Files tab.

Choose the file you want to upload and then click open. The file will automatically upload. You can select more than one file (max 10 at a time) to upload by ticking the boxes next to the file names.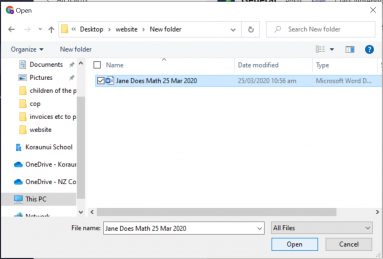 The files will appear in the folder on teams once they have uploaded.
Click on the 'Close' button on the top of the file to close the file when working in Teams. Files are automatically saved in the Teams Webapp.

To give your files a name that will make more sense you may need to rename it.
Make sure the file is closed.
Hover your mouse over the file you wish to rename. Click on the ellipsis (...) next to the file name in your teams folder.

Choose 'Rename' from the drop-down menu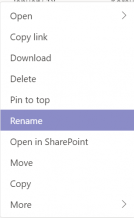 Type the name you want for the file - choose something that means you will know what it is without opening the file, then click 'Save'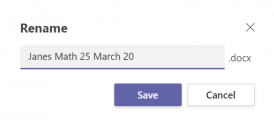 Open the file in Teams
Click Start Conversation on the top right hand side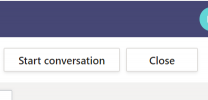 Type '@' and then start typing the first name of the person you wish to chat with without any space between @ and the name. Suggestions will pop up and you can click on the one you need. You can select more than one by using the @ symbol and typing their name and clicking on it. To select the whole team type '@team'

The tagged person / people will have an alert message to tell them someone is trying to chat when they are online. Everyone can see the messages even if they are not alerted by your @ but will not get a alert message unless @ mentioned.
To talk privately with your someone click the create chat on the top of the main team screen. Use the same method of mentioning as above (@name)