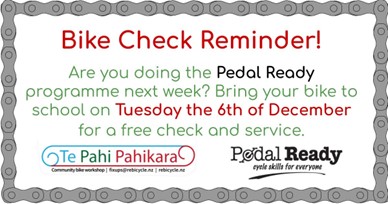 BIKES IN SCHOOLS
Next week we have bikes in schools coming to work with our senior students. All students must wear closed shoes, no scuffs, jandals, sandals.
Tuesday 6th December Rooms 12/13: Pasifika performers 9-12.30pm
Tuesday 6th December Room 7 1.30-3.00pm
Wednesday 7th December Rooms 12/13: Non-Pasifika performers 9-12.30pm
Thursday 8th December Room 7 1.30-3.00pm
If tamariki are regular bike riders and have a bike at home, bring it to school on Tuesday to be checked over.
Ngā mihi
Liz
Our Years 5 & 6 tamariki were part of Bikes in Schools programme, which Hutt City Council runs for primary schools.
Our tamariki learnt the importance of looking after their bikes, that it is the law to wear a helmet when riding their bike (or scooters!), they also learnt safer ways of riding their bikes and using the correct hand signals.
We were fortunate enough to have Sherie, her team and Constable Blue working with our tamariki on learning these valuable life skills when riding bikes.
Thanks to everyone involved, the tamariki had a blast!
As an Enviroschool we strongly encourage all of our community to find ways to reduce their carbon footprints, riding bikes and scooters to and from school is one way that this can be done.