Congratulations to everyone, we have made it to Alert Level 2 and now we are ready to begin our "New Normal School".
We will adapt to life at school together under the Alert Level 2 conditions that we will need to follow.
Our immediate focus is to settle everyone into school life, reconnecting, building relationships and re-establishing routines. It is very much like starting a new school year. With this being the case we will only be able to provide limited support for those children who are remaining at home.
Below is an outline of the conditions that apply to our New Normal School. We will review these conditions as we move through the next 2 weeks and beyond.

CORONAVIRUS (COVID 19) UPDATE - Thursday 28 May 20
ALERT LEVEL 2 "NEW NORMAL SCHOOL"
Start of Day Drop off
All children are to come in through the front gate in the morning. All other gates will be locked during the day. We are asking all parent to remain outside the school gates.
Any adult or family member who NEEDS to come on site must register using either the COVID-19 Register and QR code provided or on the paper register. The COVID-19 register can be downloaded at https://covidregister.nz. This is for contact tracing purposes. All information will be held at the school.
Any children arriving at school between 8.30-9.00am will need to go straight to their classroom. Any children arriving after 9.00am will need to check in at the office.
End of Day Pick-up
At the end of the day we will have three pick up points to avoid congestion and to help us manage distancing at school. Pick up for family groupings - the oldest child to collect siblings and then go to the youngest child's collection point.
Main School Gate: Kowhai Block – Rooms 8, 9, 10 & 11

Montgomery Street "Matt's Gate" – Rooms 12, 13, 14 & 15

Hall Entrance Gate – Rooms 23, 4 & 5
A teacher will be on the gate – 10 minutes before school finishes to help manage children leaving the school grounds.
ALL OTHER GATES AROUND SCHOOL WILL BE LOCKED AT ALL TIMES.
Sick children are to stay at home
If they have a sniffle, headache, cough or feeling slightly unwell children need to remain at home.
If children display any signs of illness at school, we will put a face mask on them, put them in the medical room and contact parents/caregivers to come and pick them up.
Classroom Hygiene
classrooms will be arranged to cater for Moist Breath Zone distancing. We will do all we can to provide spaces and environments where children have appropriate space in classrooms and in the school grounds.
all classrooms will be supplied with disinfectant, bars of soap, liquid soap, hand sanitizer and towels.
we will follow the Ministry of Education and Ministry of Health guidelines around distancing, using the "Moist Breath Zone" rule for distancing. A video has been produced for children coming back to school. Please show this to your children and talk with them about keeping distance to help everyone stay well.
Morning Tea & Lunch breaks
Children will eat at their desks/tables inside their classrooms – 10 minutes morning tea, 15 minutes at lunch time.
Drinking fountains
These will remain closed while we are in Alert Level 2. Children are to bring named water bottles to school.
THERE IS TO BE NO SHARING OF FOOD OR DRINKS AT SCHOOL.
Library Books and Classroom Reading Books
Library Books and Classroom Reading Books – thank you to everyone who has returned books to school. There is still a large number of books in homes. Can these now all be returned to school so we can clean and process them.
Toys
No toys are to be brought to school. Children can bring their scooter or bike to school, but we ask they do not share these with other children while at school.
Playgrounds
School playground structures will be open again under Alert Level 2. Children using playgrounds and school equipment will need to maintain regular hand washing and sanitizing throughout the day.
Assemblies
There will be no whole school assemblies for the foreseeable future. We will look at creative ways we can connect the whole school to celebrate successes and KORAU values while in Alert Level 2.
Study Centre
Study Centre will resume on next week Tuesday 2 June for those who enrolled in Term 1. If you wish to enroll your child/children who are Year 4, 5 or 6 please contact the office.
2.00pm Club
This will run as usual on Wednesday and Friday.
50 Cent Stalls
There will be no 50 cent stalls for the time being. We will review this as we move through Alert Level 2.
KCC
KCC will be operating before and after school from Monday 18th May. Please contact Janice on janice.dale@koraunui.school.nz and confirm your child/children will or won't be attending KCC. Everyone who enters the KCC building ill need to record their name on the sign in/out sheet for contact tracing purposes.
Headlice
we are asking that all parents/caregivers check their children for headlice. We are hoping that over the lockdown period, the cycle of headlice has been broken and we can have a headlice free winter. If you need any support or have any questions, please contact the school office or go to this website https://www.kidshealth.org.nz/head-lice .
To start the day
8.30 - 9:00:

Karakia, E-Tap, Oral language, KORAU Values

9:00-10:00:

Working on your home pack mahi and online learning that your class teacher has set and accessing the Home Learning TV Channel if possible

(Please ensure your child comes with their home packs as this is the main mahi they will do while at kura during lockdown three)

10:00-10:30:

Fuel Break One - Designated Outdoor Spaces

Have a break, have a snack and get some exercise in your bubble class

10.30 – 12.30:

Working on your home pack mahi and online learning that your class teacher has set and accessing the Home Learning TV Channel if possible

(Please ensure your child comes with their home packs as this is the main mahi they will do while at kura during lockdown three)

12.30 – 1.30:

Fuel Break Two - Designated Outdoor Spaces

Have a break, have a snack and get some exercise in your bubble class

1.30 – 2.30:

Working on your home packs, online mahi – breaks for Just Dance, art activities etc – Meeting our freedom need to an extent

2.30 – 3.00:

Clean up, tidy, karakia

Home Time

(Reminder, we finish school at 2pm on Wednesday and Friday)

*This is a pretty generic timetable and will be adapted, it is an example of things our kids at kura may be doing during the day, please take what you will and continue having fun and being safe in your bubble.
The staff of Koraunui School miss you so very much and wanted to share this message with you.
Hopefully you and the people in your bubble are managing to support each other, are finding time for some fun, some work and some time alone in your days. If you are finding that you are feeling stressed, anxious, overwhelmed or worried about what is happening with COVID-19 and the impact this is having on you and your family there is help that is available to you. Please do not feel you need to navigate this time alone.
Ways you can get support and help are;
By connecting with family and whanau and talking with them

Talking with neighbours or friends (from 2 metres away)

Talking to those in your wider community circles (church group, extended whanau, your marae etc)

Seeking help from organisations and professional groups.
The Ministry of Education has advice about supporting well-being on its website. You can access this here http://education.govt.nz/school/health-safety-and-wellbeing/pastoral-care-and-wellbeing/talking-to-children-about-covid-19-coronavirus/tips-for-teachers-parents-and-caregivers-supporting-children/
If you are in need of essential food supplies and cannot access these you can contact the Civil Defense Emergency Management Group on 0800 141 967 for help.
Skylight is offering free resource packs that can be accessed through their website www.skylight.org.nz.
Skylight is also offering their usual counselling services for those who require support, but this is now being done through video links.
If you feel you need help or support, please ask for it. There are people within our community and in the wider community who can help.
Students and parents can email their teachers for help, to answer any questions or for any support they may require with their learning between 9.00am-12.00pm and 1.00pm-2.00pm. Teachers will endeavor to stay in regular contact with their students.
Pupils can use their own school email account. Both the email account and Teams will require your school email address and password. The emails below can be accessed by both the kids or the parents. Use these email addresses to contact your teachers if you do not know your school email address or password.Teams
Term 2 begins (from your homes) this Wednesday 15th April. In these extraordinary times, this will provide opportunities and challenges for us all, but the key to being successful will rely on us being able to communicate with each other is whatever way works best for you. This will be different from home to home.
The school doesn't expect parents to become teachers or for there to be a programme running at home that reflects the normal school day. It is important to remember that learning can come in many shapes and forms and learning from home provides an opportunity for children to apply what they already know to everyday settings and situations.
We love to show examples of your work on our website so keep posting pictures to Facebook or upload it to Teams. Digital copies of your childs work can be saved into Microsoft teams with your childs school email address and password. Even offline work can be photographed or filmed and uploaded. If you don't know your email address or password please contact your teacher.
Information on our online learning platform and general I.C.T instructions and information can be found on our Information Technology Pages.
Check out the learning activities pages to see what other people are up to and get some craft ideas.
We are very grateful to everyone who has helped to provide and deliver craft activity supplies to our families.
Here are some examples of the work and activities people have been doing during the holidays
Learning activities people are doing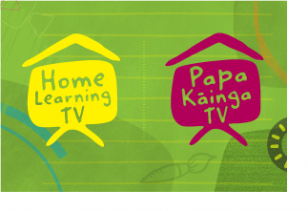 Home Learning | Papa Kāinga TV is free to air, on TVNZ channel 2+1 and on TVNZ on Demand, as well as on Sky Channel 502, running from 9am to 3pm on schooldays with programming for children and young people aged 2 to 15, as well as for parents.
Māori Television broadcasts te reo educational programmes (for ages 0 to 18) from 9am to 3pm on schooldays.
Check out the tvnz guide and Maori TV guide to see what is available. You will need to create a login to watch the shows on the website or you can watch them on your tv connection.
Missed something you were supposed to watch for class or just want to watch something else? try these sites to see if it is available on demand.
https://www.tvnz.co.nz/shows/home-learning-tv or https://www.maoritelevision.com/on-demand/featured
We will work on establishing on-line learning and communication for families who can access this while the school is closed. As we finalise what this looks like, we will provide information about what this includes and how to access on-line learning. We are able to provide paper learning packs for those without internet access. Please keep an eye for emails about this in coming days.
Please contact your teacher if you do not know your school email address or password.
These are some of the most commonly used sites for our school,
Access more information on how to use our school Apps and websites
Here is some ideas to help you stay fit and healthy.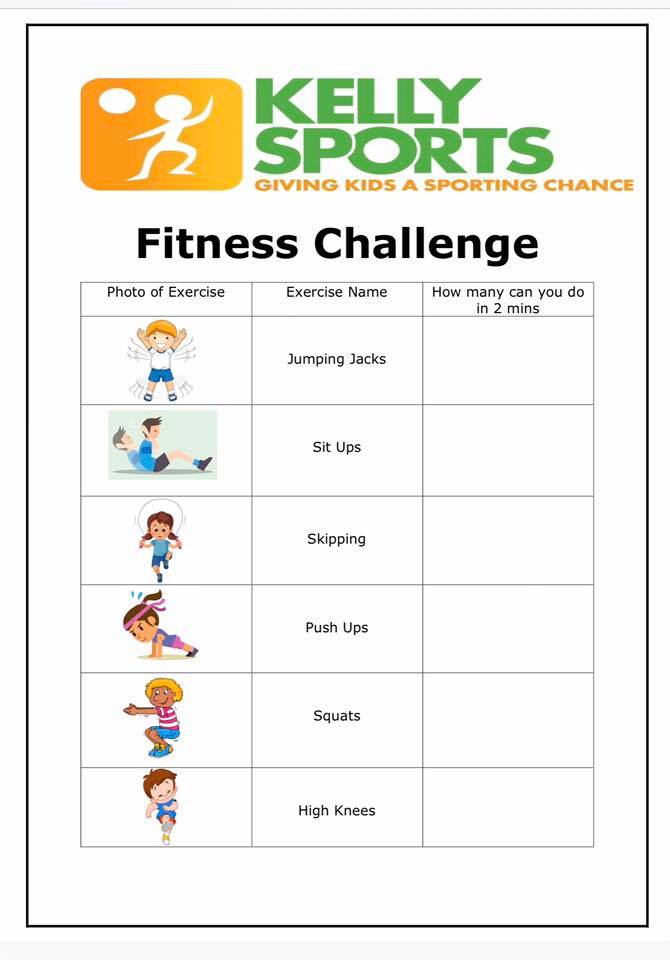 We have prepared learning from home packs.
All learning from home packs that were not picked up from school were delivered to families so the children have these to work on during the time away from school.
The packs include;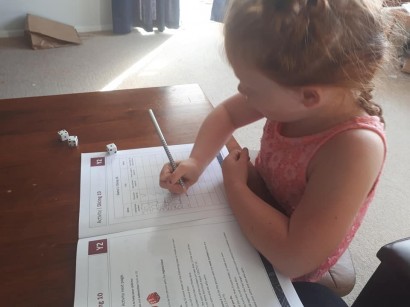 An explanation of the pack and what is require of the children, contact information.
Photocopied sheets, lined paper and a workbook.
Stickers to decorate the workbook with.
Library books selected by your child.
A slip of paper with details and login for StudyLadder (online learning site)
Parents may need to provide their children with a vivid marker pen, colouring pencils and a glue stick.
Ministry of Education packs have also begun to arrive in homes.
You can learn more about what is in these packs and also check out the online resources on the MoE Learning from home website
Check out the learning activities pages to see what other people are up to and get some craft ideas.